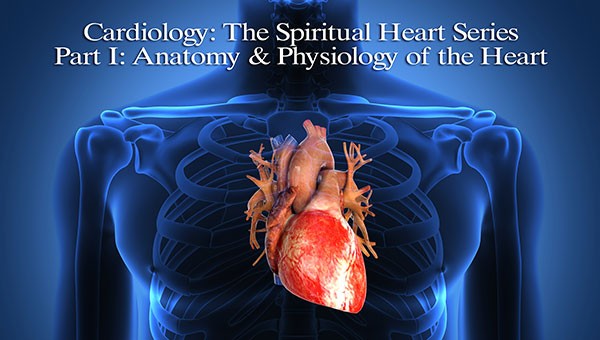 Above all else, guard your heart, for everything you do flows from it.
Proverbs 4:23 (NIV)
Before I was saved I suffered inner turmoil. I wasn't content or satisfied despite living the American Dream. I feared death and was tormented by the fragility of life as I tucked my young children into bed every night. I yearned for eternity but faced my own fatalistic evolutionary mortality. I realized there is never enough time with the people you love. True love demands eternity right now but that was impossible to me at the time. My actions and words were filled with sarcasm, cynicism, bitterness, and selfish motives that were all hidden under the guise of professional success. I had no idea that I had a severe "heart" problem. Not my physical heart but my spiritual heart. It was in agony from being separated from its Creator and filled with sin. The very core of my existence was fallen, diseased, and in need of a spiritual "heart transplant." I needed a new pump and had no idea that Jesus, the Great Physician, was about to give me one. Afterwards, I had go back to "medical school" in the Word of God to learn about my new heart, how it worked, and what was need to make it healthy and strong. Here is my journey Part 1.
Introduction: The heart is the most important organ in the body. It is the central pump and powerhouse that circulates the blood and provides oxygen and energy to all the cells. It is truly an amazing organ. Your heart beats about 100,000 times per day and about 35 million times per year. The human heart will beat more than 2.5 billion times during an average lifetime! Cardiology is the branch of medicine that deals with diseases and abnormalities of the human heart. In the Bible the heart is mentioned 987 times and almost all of these refer to our spiritual heart.
Obviously, this is an important topic for God. The Great Commandment is to love God with all our hearts (Mat 22:37-38). This makes "spiritual Cardiology" very important in our lives. One of the most important things in all of Scripture is to have a healthy heart. But what exactly is our spiritual "heart"? Before we can study the heart and "heart disease" we need to understand the structure and function of our spiritual hearts. This will enable us to properly listen to our hearts and diagnose any problems so that God can provide healing and spiritual "medicine."
I. Definition: If you study the word for heart in the Old and New Testament it is actually quite complicated and complex. There are many different functions associated with the heart and there is overlap with other terms like "spirit," "mind," and "soul."  Overall, the heart is the seat or core aspect of our inner nature that makes up the real person that we are before God. It is called the "wellspring of life" (Prov 4:23).
II. Anatomy/Structure: To help us understand the heart and how it works we will use an analogy and diagrams (see below). The heart is like a corporation that has inputs and outputs. Things come into the company and the company produces things as a result. The internal structure of the corporation consists of different departments under a CEO and set of company policies and rules.
Our spiritual hearts according to Scripture are analogous to a complex corporation. Things come into our hearts and all the issues of life come out of our hearts. See the diagram below. The different departments of the corporation and heart are color coordinated and directly analogous. The attitudes and character of our person, for example, correspond to the mission and vision statement.  The operations of a corporation are complex. Many different people in various departments are contributing to the results and output of the company. There are many areas where things can go wrong. People may not obey the rules or make poor decisions, for example. As we will see in subsequent lessons the same is true for our spiritual hearts.
Biblical Components of the Heart:
1. Feelings & emotions (Mk 7:21-23; Jn 14:1, 16:6)
2. Desires, motivations and passions (Mk 7:21-23)
3. Thoughts, imaginations, motives, and intentions (Mat 9:3-4)
4. Reasoning and perception (Mk 2:6-8; Lk 3:15)
5. Attitude & character (Col 3:22)
6. The will (Eph 6:6)
7. Law of God is written there (Rom 2:12-16)
8. Holy Spirit is there if a person is saved (Rom 5:5, 2 Cor 1:21-22)
9. Knowledge of God and the desire for eternity (Ecc 3:11; Rom 1:19-21)
III. Physiology/Function
The heart is complex and responsible for everything that we do, feel, and say (Mk 7:21-23). In addition, it is also functions as:
1. Location of saving faith (Rom 10:8-10)
2. Conviction of sin & repentance (Act 2:37; 1 Jn 3:18-21)
3. Spiritual hearing (Mat 13:14-15)
4. Spiritual vision (Mat 13:14-15)
5. The Word of God is received in the heart (Mat 13:19)
6. Origin of our words (Mat 12:34-35)
In the next lesson we will build upon our basic anatomy and physiology to look at how healthy and unhealthy hearts function. This will involve "heart transplantation surgery." Then we will move on to evaluate different heart problems, "disease states," and how they can be treated. Simply understanding what the heart is and how it functions can greatly help us be healthy and on fire for the Lord. Our hearts can be strong and filled with Him! You can already begin to see how what we put in affects what comes out. Stayed tuned and don't forget to sign up for our Facebook and Twitter posts since they will be complementing the blog.
GregV TheWord MD