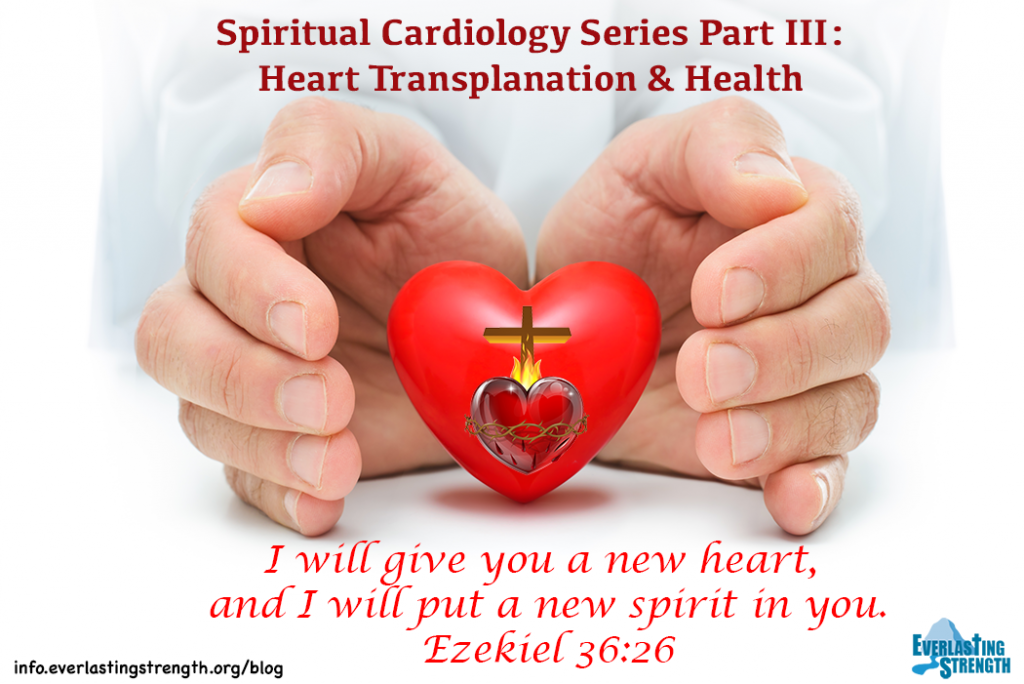 I. Spiritual Heart Transplantation 
Last week I described the depravity of my heart. I had no idea that the only hope for my heart was a new one. I thought I could try and be a "good person" but God showed me I had to become a new creation. My heart was so diseased with sin that I had to be "born again." I desperately wanted to change for many years but never could. Self-help techniques always failed me in the long run. I could not escape the real person that I was on the inside. I did not realize what Jesus was going to do for me when I came to Him for salvation. At best I thought my sins would be forgiven, and I would receive a pass to heaven. I was shocked to learn that the entire nature of my existence had been changed. Jesus, the Great Physician, made me a new person, gave me a new heart, and put His own Spirit in my heart (The Holy Spirit) so that I could truly love God and others. He didn't just want to save me from my sins but also wanted to empower me to be a new and better person right now. Incredible! (Read The God Diagnosis for the entire story). The following Scriptures helped me to understand what had happened.
Jeremiah 17:9
The heart is deceitful above all things, and desperately wicked. Who can know it?
 
Ezekiel 36:26–27
I will give you a new heart, and I will put a new spirit in you. I will take out your stony, stubborn heart and give you a tender, responsive heart. And I will put my Spirit in you so that you will follow my decrees and be careful to obey my regulations. 
 
John 3:3
Jesus answered and said to him, "Most assuredly, I say to you, unless one is born again, he cannot see the kingdom of God."
 
2 Corinthians 5:17
Therefore, if anyone is in Christ, he is a new creation; old things have passed away; behold, all things have become new. 
 
Romans 5:5
And this hope will not lead to disappointment. For we know how dearly God loves us, because he has given us the Holy Spirit to fill our hearts with his love.
II. Healthy Christian Heart
I was also shocked to discover that although God radically changed me, and had given me a new heart and the Holy Spirit, everything wasn't perfect. I had a new heart, but it still needed a lot of "treatment" from the Lord. I had to take care of my new spiritual heart and make it healthy by putting good things into it. I now had the power and potential to slowly become more like Jesus by the power of God and the changes that had taken place, but I still needed to grow and mature. The following paragraphs explain this journey.
 
I discovered that I still had a sinful nature or "flesh" that was prone to my old selfish ways and was battling for control of my heart. God in His infinite wisdom chose to not cure anyone's sinful nature/flesh until heaven. God gave us access to the power to overcome our old sinful nature, but the old nature did not disappear. I wasn't sure but I think he wanted me to be dependent on Him since I was created for Him and by Him. He wasn't going to force me to grow spiritually and be healthy. I had to choose to be healthy and be ready to work at it diligently even though He would actually do all of the real work. I could very easily start doing many of the things that an unhealthy heart craves if I wasn't careful. God was present and waiting to do all of the spiritual healing and surgery. I just had to cooperate and He would make my heart healthy and filled with His love, peace, joy, and will. He provided great Christian counsel that got me started. We started by focusing on who God was, what He was like, and what He had done for me by diligent Bible study, meditation, and some memorization. "The company" of my heart needed a lot of good input from the Word of God.
 
Galatians 6:7–8 (The Living Bible) 
Don't be misled; remember that you can't ignore God and get away with it: a man will always reap just the kind of crop he sows! If he sows to please his own wrong desires, he will be planting seeds of evil and he will surely reap a harvest of spiritual decay and death; but if he plants the good things of the Spirit, he will reap the everlasting life that the Holy Spirit gives him. 
 
As I began to study I was so grateful for what God had done for me and amazed at His love for me that I began feeding my heart with as much of the things of the Lord as I could. The Holy Spirit in my heart began to lead me and empower me to a healthy heart by focusing on God and His Word. Worship, prayer, Bible study, and Christian fellowship became a daily priority in my life. God was in my heart and I made Him the CEO of "the company" through daily prayer and surrender from gratitude, awe, and wonder at His person and love. The more God taught me in His Word the more my passion for Him grew. I had it my way for 36 years but now I wanted it His way because He was changing my heart. Faith, hope, and love fill began to fill my heart since God was finally in control of "the company." His divine agape (unselfish giving) love began to grow in my life as I started to serve Him and others instead of myself. Because my heart was different my life, actions, words, motives, and goals were different. He enabled me to fulfill the law of God by the power of the Holy Spirit through agape love that only He possesses and cultivates.
 
The diagram below is a healthy Christian heart that is doing and experiencing the things I described. The diagram pictures an ideal example of a healthy heart where everything is in perfect order (mine was not). Its shows the epitome of a healthy Christian heart for learning purposes. Realize that this never occurs in real life since no one is perfect but Jesus. It is very helpful, however, to have a model to try and live by. Compare this to my heart before I was saved and note the many differences that God can make!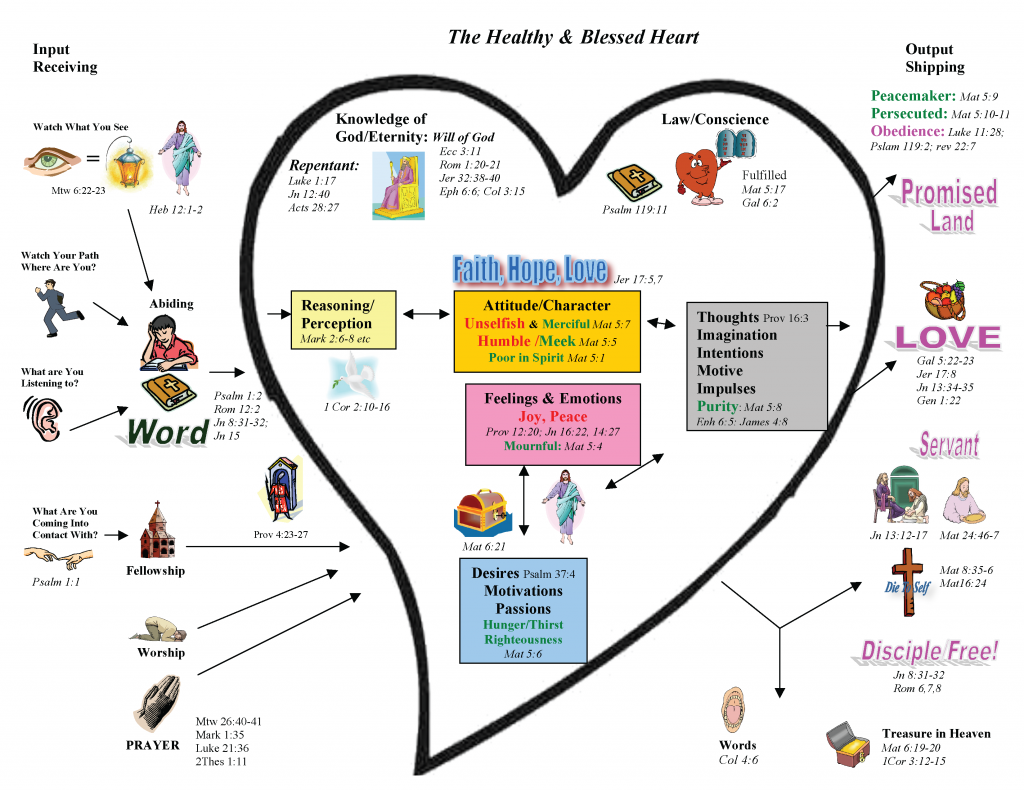 A healthy heart is humble, dependent on God, unselfish, filled with and controlled by God, taking in the Word and things of God, and producing love for God and others. Do you want a healthy heart? Do you want to change? Are there areas in your life that need to change? Then come to Jesus, the Great Physician, for a new heart and let Him fill it with the Word of God and His presence. His office is always open and no appointment is necessary! Let your heart feed on Him, depend on Him, and beat for Him and watch what happens. Do The Abundant Life Bible study to get started!
 
Psalm 119:11
Your word I have hidden in my heart, that I might not sin against You.
GregV TheWord MD, Spiritual Doctor