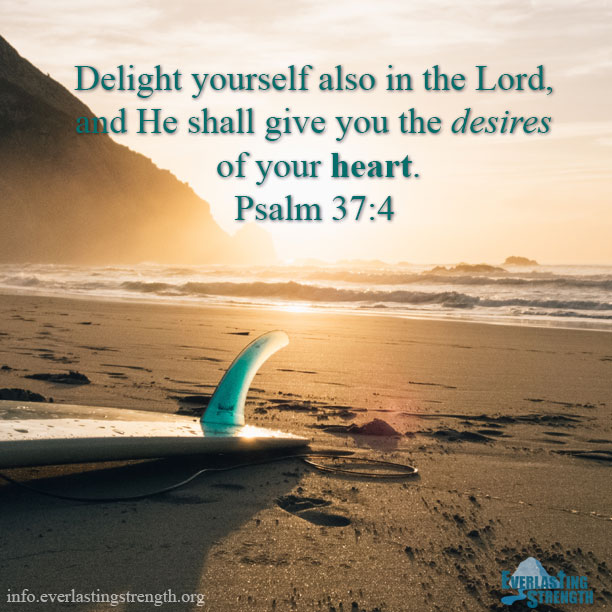 Delight yourself also in the Lord, And He shall give you the desires of your heart.
Psalm 37:4
A few weeks ago I was excited to go surfing especially since the weather was beautiful. However, when I finally arrived the wind had picked up and it was getting choppy. I went out anyway and paddled around for 30 minutes but didn't catch any good waves. Frustrated, I left and went up to the north end of Wrightsville Beach to see if the surf was better. After 20 minutes, it was worse! I got out of the water and trudged back to my truck like a kid who had discovered the amusement park was closed. I sat in the truck in my soggy board shorts pouting. I had sooooo looked forward to this day but it had gone sour on me. I had no idea of the amazing events that were about to occur.
Suddenly, I was startled by a knock on my car window. I jerked my head around and saw a man standing there from the public utilities company. I rolled down the window and he said "Hey. What's up with the Everlasting Strength decal on your truck?"
I was taken completely by surprise. What's going on? I wondered. Is the Lord up to something here? I thought.
"Well, I am a Christian author and speaker. That is the name of my ministry. I have written two books. Here let me give you a copy!"
I got out, shook his hand, and went digging in the back of the truck where I keep a small supply of books. "I can't find the first book I wrote, but here is a copy of the second, The Abundant Life. It's a study guide. I just published."
He stared at the cover and exclaimed "I know you! I read your first book The God Diagnosis."
"Really? That's awesome! I hope you enjoy this one too" I said.
"Great! I will read it. My family has been struggling with some issues. We are Christians but need some help. Thanks again."
He started to leave but then he suddenly turned around and came back sobbing. "I, I, I just want you to know that on my way here I was praying that God would help me to grow and know Him better. I asked Him to give me something that would help me. This was literally only a few minutes ago as I was driving up here. I pulled in and there was your truck with Everlasting Strength on it. This is totally a God thing!"
"Wow." I replied.
I was speechless. I was dumbfounded by what had just happened. The donkey ears were growing on my head as I began to realize what had just transpired. In the middle of what I thought was a messed up day, God was planning something much bigger and more important than surfing. I was sitting in my truck dejected yet some how, some way I was right where He wanted me. I thought about it. If I hadn't switched locations, I wouldn't have met this guy. If the surf was good, I wouldn't have been in the right place at the right time. If I had stayed in the water a few minutes longer then he would have been gone. As I looked back I realized I had simply followed the urgings of my heart.
"Lord?! How in the world did you do this? It's awesome and amazing! Forgive me for being so self centered." I said to God with excitement.
I left blessed and energized. I couldn't care less about the surf anymore! If the Lord can use me when I am completely unaware of it then there is hope! Not just for me but for everyone who is willing to obey God. Thank goodness I had started my day with the Lord in prayer and worship.
Give your heart to God. Delight in Him. It's healthy for your heart. Surrender and worship opens your heart for God to fill it with His will. He can work all things for the good even when we don't realize it.
GregV TheWord MD, Spiritual Doctor