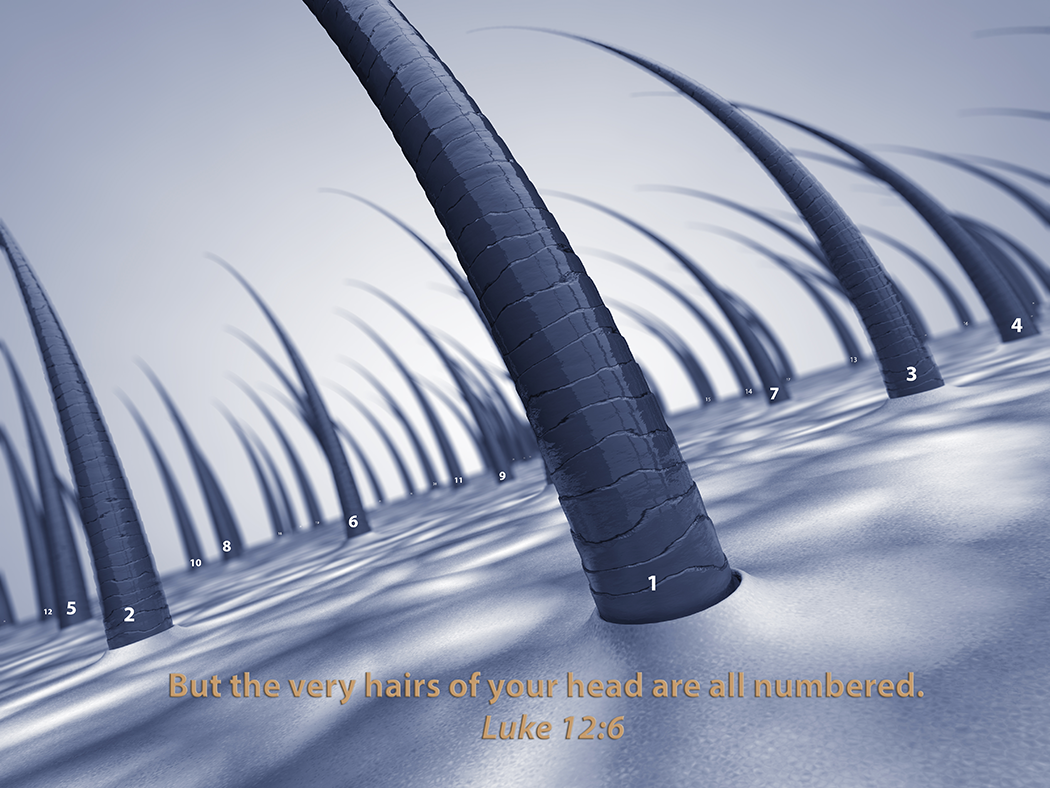 The Lord has blown my mind many times but this time He left me in tears. I literally could not believe what He was showing me. I will never be the same. I was studying the Gospel of Luke and came across this passage.
Are not five sparrows sold for two copper coins? And not one of them is forgotten before God. But the very hairs of your head are all numbered. Do not fear therefore; you are of more value than many sparrows. Luke 12:6–7
The Holy Spirit stopped me here and so I read it again. As I began to read the second sentence the number 116,648 began flashing in my mind. Over and over again I saw the number in my head in a strange and indescribable way. It was flashing and relentless. I put down my Bible, closed my eyes, and began praying. "Lord what are you showing me," I whispered but there was no response. The number just kept popping up in my head and it was getting stronger and stronger. Is the Lord trying to tell me how many hairs I have on my head? I thought to myself. I whipped out my iPhone and googled how many hairs are on the human head. This is what I found:
"On the average there are over one hundred thousand strands of hair on a young adult. Blondes average about 140,000 strands, brunettes average 108,000 and redheads average 90,000."
https://answers.yahoo.com/question/index?qid=1006011303909
Wow! I thought. That number is right in the ballpark. At that very moment God spoke to my heart and told me that He created me and has every hair on my head numbered. He doesn't just know how many hairs I have, but has numbered each and every one of them! He was telling me that I was so valuable to Him and His knowledge of me is so detailed that He has every single hair numbered, all 116,648. I was floored when this verse suddenly became more personal than I could have ever imagined. I was speechless that He had decided to reveal this to me. God records and keeps track of the most minute and seemingly insignificant parts of my body in exquisite detail. My heart was filled with love, value, purpose, and the knowledge of the details of God's divine love. I will never be the same. In a world where we seek these things in all the wrong places, I suddenly had one of the most unsuspecting reminders of the true source of what I am longing for right on top of my own head; and not just one reminder but 116,648 of them!
A healthy hearts knows the love and detailed care of God. Let Jesus fill yours today. Go look in the mirror at all of your hairs and stare in awe and wonder at the love of the Lord, your Creator and Savior.
You made all the delicate, inner parts of my body and knit me together in my mother's womb. Thank you for making me so wonderfully complex! Your workmanship is marvelous—how well I know it. You watched me as I was being formed in utter seclusion, as I was woven together in the dark of the womb. Psalm 139:13–15 (NLT)
GregV TheWord MD, Spiritual Doctor