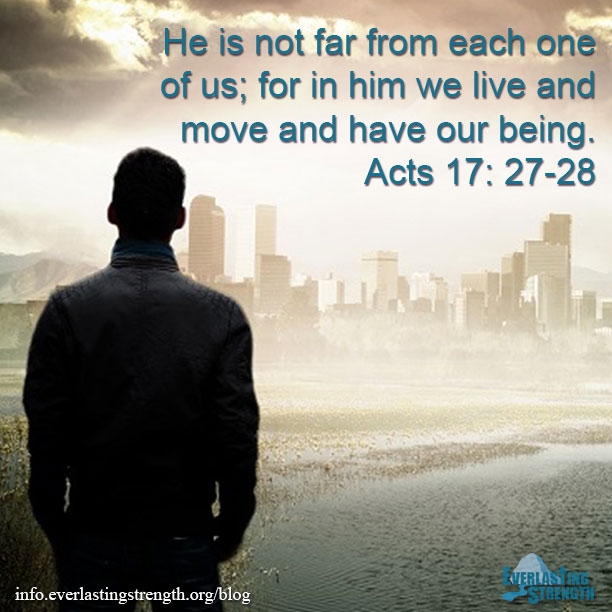 He is not far from each one of us; for in Him we live and move and have our being. 
Acts 17:27–28
A while back my cable internet service went out. I went to the box and rebooted it, which usually solves the problem. This time it didn't. Frustrated because I needed to get online, I called Time Warner to see if there were any outages but none had been reported. "What in the world is going on?!" I muttered to myself. "How can it just go out for no apparent reason?"
I called back and got with technical support. They checked everything out from their end and found no problems. They would have to send out a technician, but there was no availability until three days later. I took the appointment and then monkeyed with the box for over an hour to try and get it to work but all to no avail! I was miserable.
When the cable guy finally showed up I greeted him with, "I am so glad you are here. It's been out for a few days." As he began to work on it the Holy Spirit said to me "Give him your book." At that instant I realized this wasn't just a broken cable box but a divine appointment. Really? The cable guy Lord?
He replaced the router and that fixed the problem.  I said, "Thank you so much and here is a free copy of my book The God Diagnosis. It's a story of how Jesus changed my life."
"Really?" he said with a surprised look on his face. "This is really strange because my wife and I have been looking into God. We are trying to figure out where to go to church and what it's all about. Someone at my wife's work has been talking with her about the Lord but we don't think he is telling the truth. He seems off."
I nodded approvingly and said, "Yeah be careful there is a lot of false information out there. Read my book and then start reading the Bible" I then invited him to church before he left.
One he left I was amazed. God had somehow, someway used a broken internet connection to help reach a couple searching for the truth. I was worried about getting online while the Lord was concerned about saving souls He died for and created. I was thinking temporally while He was thinking eternally. I was thinking about me, while He was thinking about them. I was frustrated, while He was eager to reach them and teach them about His ways.
I need to walk with an awareness of God's presence and detailed activity in this world. I need to look for Him working all the time. I need to be more like the Lord and be aware that He is in the midst of everything- even a broken internet connection! "Lord open my eyes to what's really going on."
GregV TheWord MD, Spiritual Doctor