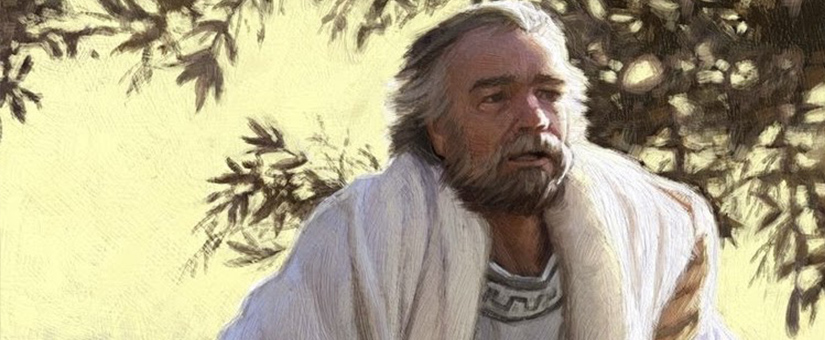 I am always in a hurry. I hurry to get up and get to work. I hurry to eat lunch. I hurry to get home at a decent hour. Admittedly, I am a "Type-A" person, but our modern rat-race life often forces us to be in a hurry. As a Christian the ultimate question becomes, is God ever in a hurry? Did Jesus ever run anywhere? Was He ever in a rush?
Jesus said: "A certain man had two sons. And the younger of them said to his father, 'Father, give me the portion of goods that falls to me.' So he divided to them his livelihood. And not many days after, the younger son gathered all together, journeyed to a far country, and there wasted his possessions with prodigal living. But when he had spent all, there arose a severe famine in that land, and he began to be in want. Then he went and joined himself to a citizen of that country, and he sent him into his fields to feed swine. And he would gladly have filled his stomach with the pods that the swine ate, and no one gave him anything.
"But when he came to himself, he said, 'How many of my father's hired servants have bread enough and to spare, and I perish with hunger! I will arise and go to my father, and will say to him, "Father, I have sinned against heaven and before you, and I am no longer worthy to be called your son. Make me like one of your hired servants." '
So he returned home to his father. And while he was still a long way off, his father saw him coming. Filled with love and compassion, he ran to his son, embraced him, and kissed him.
Luke 15:11-20.
The son had declared that his father was dead to him by wanting his inheritance early. He disgraced his family and likely broke his father's heart. Jewish customs and law would have called for this son to be punished and even stoned for his actions. When he finally reached rock bottom he never imagined he could be restored to his father. He wanted to be a hired servant, which is not even the same as a regular servant that lived at the father's home. The son would have to get cleaned up, earn his way back, slowly regain trust, and rebuild the relationship. He would suffer shame and rebuke from his father for his heartless actions. But he was wrong about his Father! And very often we are too.
The only time in Scripture that God is in a hurry is to greet the lost sinner who repents and comes "back home to the Father." The Father was waiting, watching, ready and eager to forgive and fully restore his son without rebuke. When he saw him coming he ran to him. He didn't care that he was dirty, smelly, and that his son had treated him as if he were dead. He just wanted his son back. Jesus clearly communicates to us in this parable that God runs towards us when we move towards him for salvation. This is the heart of God for every lost soul. He is not waiting to judge but waiting to forgive and fully restore us just as we are!
This is an incredible truth! The LORD loves each and everyone one of us so much that He can't stand to just watch us come to Him. No. He runs towards us to embrace and kiss us with the love of God. Yes! You are that valuable and dear to God's heart. This is true when you are saved and when you have sinned. You don't have to earn God's favor. He is waiting and watching for us to come back to him with a repentant heart so He can embrace us and shower us with His love. How much more then does He want a relationship with us each day! Go to the Father in prayer, praise, and worship. He is eagerly waiting for you.
"But the father said to his servants, 'Bring out the best robe and put it on him, and put a ring on his hand and sandals on his feet. And bring the fatted calf here and kill it. We must celebrate with a feast, for this son of mine was dead and now is alive. He was lost, but now he is found.' So the party began. Luke 15:23–24.